Take control of your network with Pantacor One. Turn your Raspberry Pi into an app-enabled WiFi router for your home.
Create an Account

Flash your device

Start using your WiFI device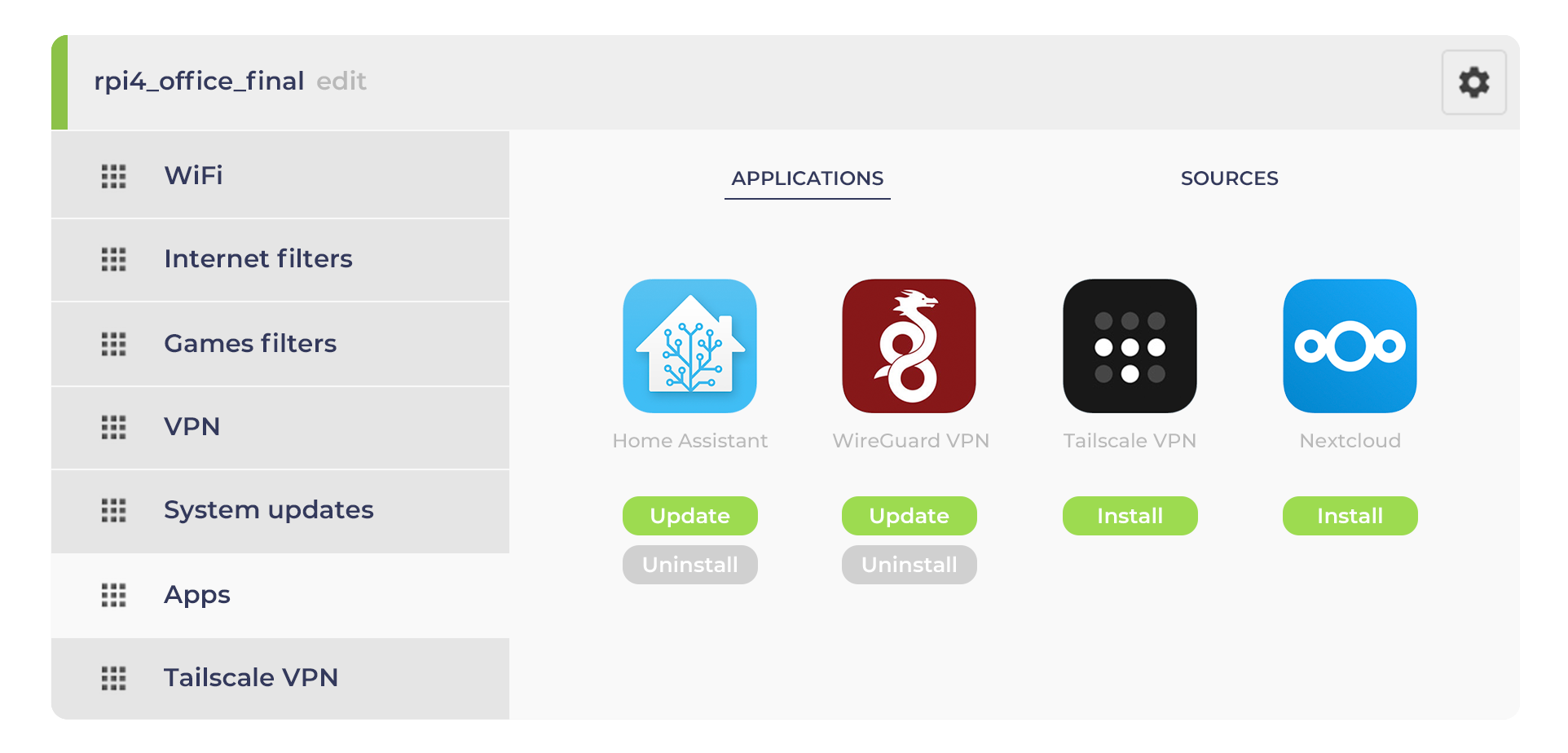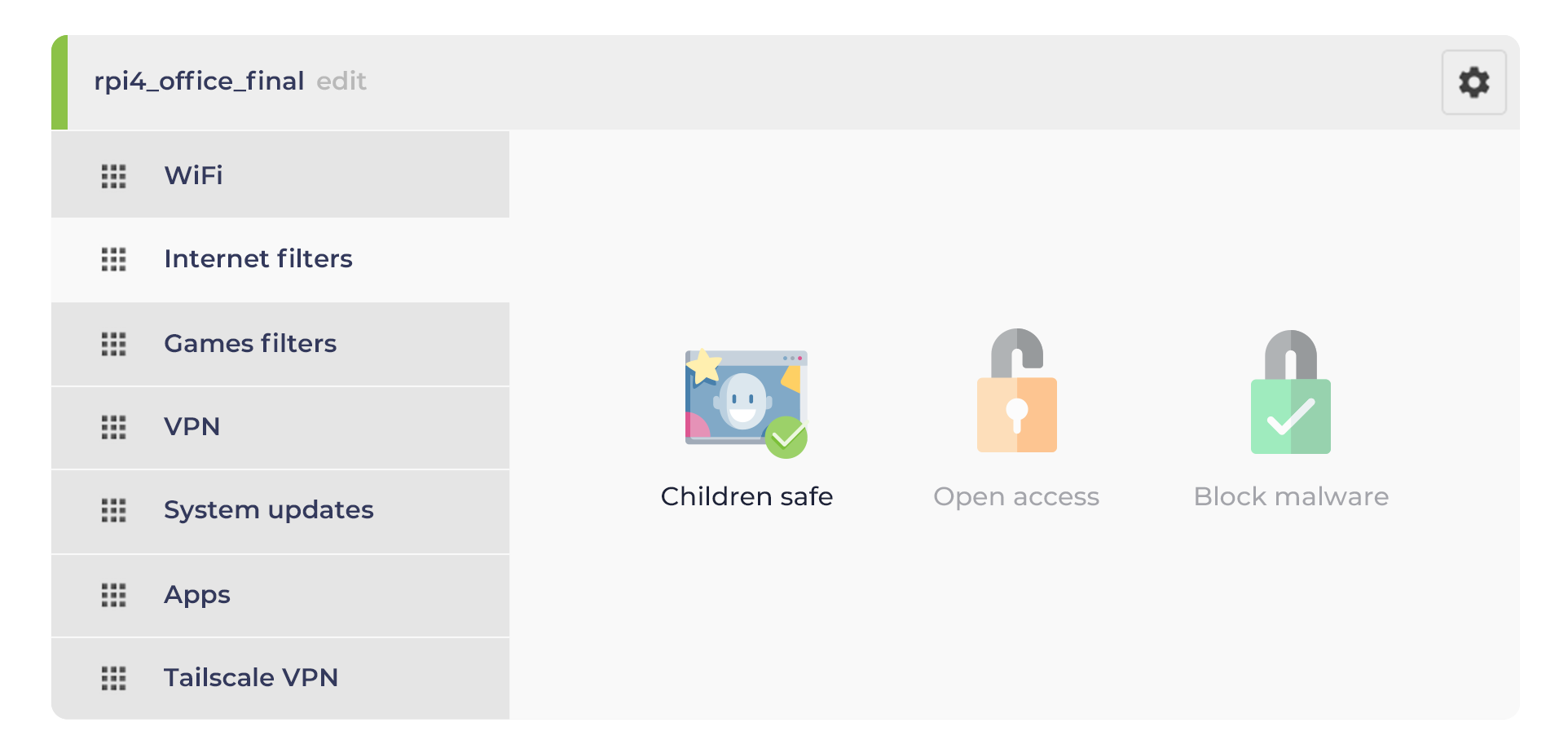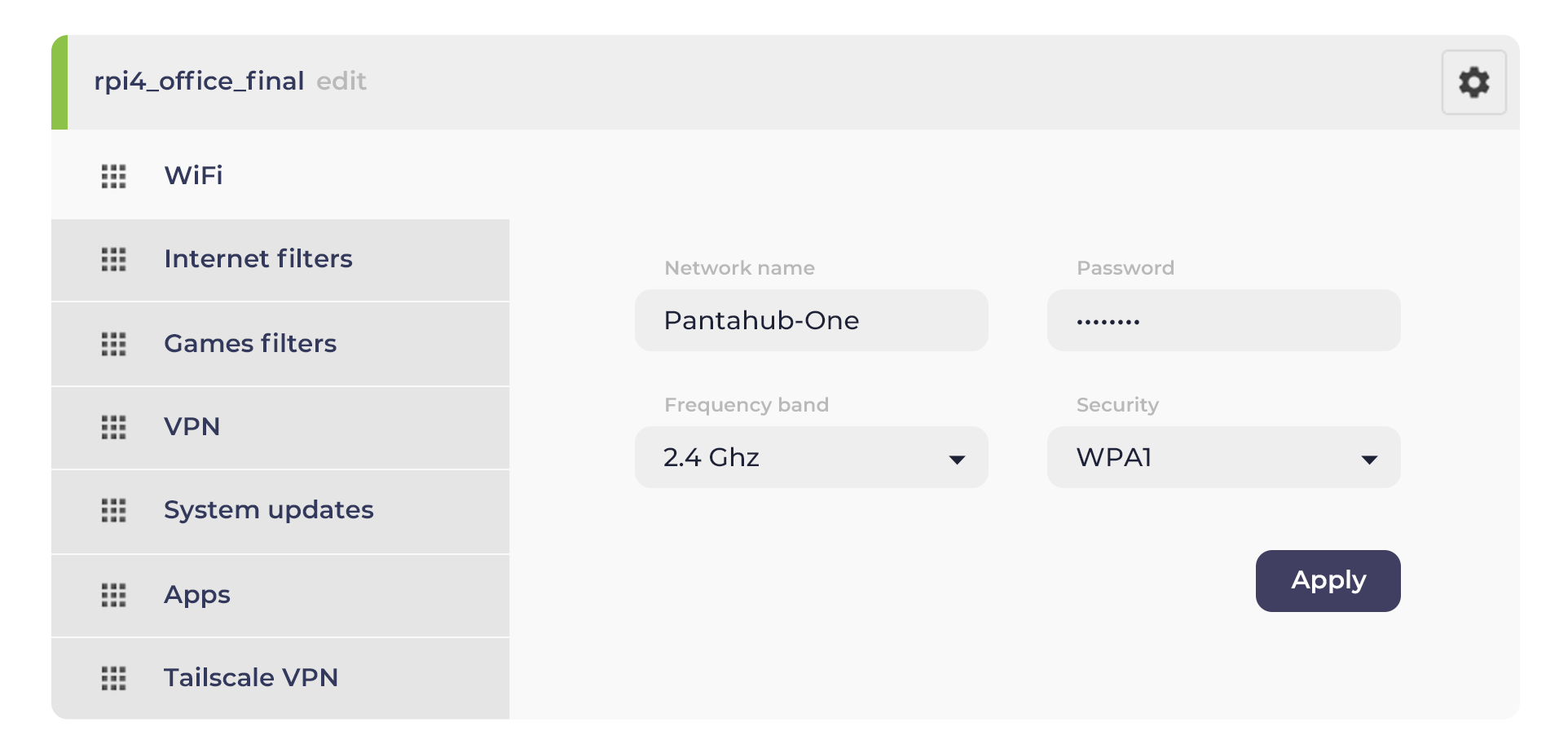 Connect all of your wireless devices securely and safely, implement parental controls, or browse our app store to install a VPN and more.
Harness the power of your Raspberry Pi!
Pantacor One allows you to turn your Raspberry Pi into a full featured wireless router. Connect all of your wireless devices securely and safely, implement parental controls, connect to a VPN, even install an AI powered voice assistant or media server!
Marketplace
One-click install of all kinds of Apps on your WiFi router.
Network Filter
Content filters to protect your family's internet experience.
Vpn connection
Secure, private browsing from the leading providers.
Just a few of the apps available on our platform:
What is Pantacor One?
Pantacor One is
Software that allows you to use your Raspberry Pi as a Wireless Access Point and/or Router.
Pantacor One is not
Desktop software with an interface that you will access via the HDMI port on the Raspberry Pi. You can access the Web UI for Pantacor One at one.pantacor.com
Pantacor One is
A completely free offering from Pantacor to show off the power of our Linux firmware management platform.
Pantacor One is not
A scheme to monitor network traffic or harvest user data. We may collect logs from time to time for troubleshooting purposes but only if you have opted-in for that feedback. We're not interested in your data, we're interested in building a community.
Pantacor One is
An open-source project that allows users to extend the router functionality of their device through the use of #AppsOnWifi available in our free Marketplace.

Basic parental control and routing functions are built in but advanced features can be added via the Apps Marketplace.
Pantacor One is not
A complex, difficult to understand, extremely powerful and configurable router firmware like OpenWRT… yet.

We didn't attempt to build every possible functionality and feature into Pantacor One. We built a platform that can be extended with apps. If you would like to perform complex routing operations, print server, enhanced firewall or other advanced tasks, Pantacor One doesn't have that built in. However, any of those tasks could be built as an "app" and made available to all users. If you can find a Docker container, or can build a custom rootfs that has this functionality that you're looking for, then it can likely be added as a Pantacor One app.

If you're a developer and would like to build some apps for Pantacor One please contact us and we may be able to pay a bounty for your app!
Pantacor One is
Sort of a "Live demo" of what Pantacor's scalable Linux firmware management platform can do. Pantacor One is a free offering from the for-profit company Pantacor.
Pantacor One is not
Monetizing your data.

As stated elsewhere Pantacor One shows the power of our backend technology for network hardware. We are offering Pantacor One at no cost to help showcase our suite of tools and technology stack.
Why Pantacor One?
Pantacor offers a robust platform for managing many linux devices through containerization, regardless of their hardware capabilities. We wanted to create an example of the ease of use and types of functionality we can add to any linux device, while also helping out everyday families as the world continues to evolve and we find ourselves working, learning and doing more from our homes.
That's why we created Pantacor One. It showcases the amazing functionality that our services can add to a network device, is easy for anyone to install and manage and extremely low cost, so families everywhere can take advantage of a fast, safe and functional Wifi connection in their homes.
If you already have a Raspberry Pi you can create an account for Pantacor One today. If not you can purchase one from one of the Raspberry Pi Foundation's partner resellers listed here.
FAQ
Why do I need to create an account before I can download the image?
Pantacor One allows you to manage your Raspberry Pi router from anywhere via our web interface. This requires the image that you'll flash to the SD Card to be associated with your login information. Each image download is customized with the necessary information for your specific account.
What data are you collecting from my network?
None. We are not collecting data from your network or anywhere else for that matter. We do offer the ability to opt-in for some information like logs and debugging info but that's just to provide support and improve the product. We have no interest in your network traffic whatsoever. You can find more information about this in our Privacy Policy and in an upcoming blog post on this topic.
Pantacor doesn't appear to be a charity. If you're not collecting my data or charging me for this service, how does your business stay open?
Pantacor has developed software and technology to allow for the large scale management of embedded linux firmware and devices. Pantacor One is a demonstration of one possible implementation of our technology stack.
As COVID sent many people to learn and work from home we realized we could help a lot of people out with Pantacor One while strengthening the value proposition of this use case for Pantacor Technology. Thus Pantacor One was released to the public. Employees can easily connect to their corporate VPNs and parents can easily make sure their children are focusing on learning during the day instead of playing games.
If you are developing hardware or software and need a way to manage your firmware in an infinitely scalable way, Pantacor can help. If you just want to turn your Raspberry Pi into an #AppsOnWifi enabled router, Pantacor can help as well (for free!)
WPA2 isn't working for me!
We've seen some issues with WPA2 and iPhones especially being unable to connect. We're working on this issue, but for now, please just use WPA1 security.
What apps are available for Pantacor One's #AppsOnWifi?
We currently offer:
Home Assistant, Tailscale VPN, Nextcloud, Wireguard VPN
I've installed Pantacor One on my Raspberry Pi but after it boots up there's no UI or anything on my screen?
Pantacor One does not have a UI on the Raspberry Pi at this time. Please visit one.pantacor.com and login to manage the device. Pantacor One converts your Raspberry Pi into an App-enabled router. If you want to use your Raspberry Pi as a computer, please look into Raspbian or a similar project.
How do I SSH into my Raspberry Pi to manage Pantacor One from the command line?
You can find instructions on how to SSH into a Pantacor Hub device in our documentation here.
If you're interested in developing #AppsOnWifi for Pantacor One please contact us for more information and we may be able to work with you as a developer.